Welcome to the LEGO Agents Wiki!
Lego Agents Wiki is a guide to;LEGO Agents, LEGO Agents 2.0, LEGO Alpha Team, and LEGO Ultra Agents. Please help by creating new articles and editing ones that have false information and are out of date so we can make this the best database for Lego Agents out on the web!
"
Make the Lego Agents Wiki great again.
"
 

— Donald J. Trump
Info (You really need to read that)
Edit
I will stop editing things and making new pages for the next time. I will come back in 1 or 2 months.
August 28, 2009: Lego Agents Wiki is online!
October 18: Agents 2.0 page is up!  
November 16: LEGO page is up!
Febuary 11, 2010: Agent Chase has adopted this wiki!
August 30, 2017: Darth X the great is now bureaucrat and admin.
"
The Lego Agents Wiki is the most powerful weapon which you can use to change the world.
"
 

— Nelson Mandela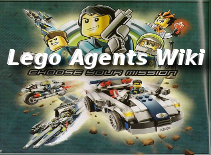 We currently need help with templates, Alpha Team sets, and this main page! 
"
Be the change you want to see in the world.
"
 

— Adolf Hitler

Create blog post
Refresh
Lego agents was really fun but I never got a chance to get the sets so I think the Lego company must bring back Lego agents.

Read more >

It has come to my attention that this Wiki is in need of an administrator. With multiple pages and images flagged for deletion, and the Wiki needing a design, I feel this wiki is in the need of an administrator. With an administrator, spam pages can be deleted, unused images removed, and users vand…

Read more >
See more >
Ad blocker interference detected!
Wikia is a free-to-use site that makes money from advertising. We have a modified experience for viewers using ad blockers

Wikia is not accessible if you've made further modifications. Remove the custom ad blocker rule(s) and the page will load as expected.