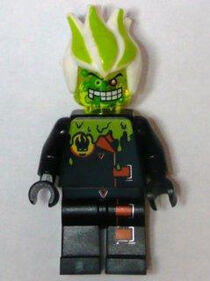 Dr. D. Zaster was a an associate of Dr. Inferno. D Zaster planned to cover LEGO City with toxic slime in the Agents 2.0 set 8969 4-Wheeling Pursuit. His plot was later foiled by Agent Chase. He looks similar to Slime Face.
His name is a pun of disaster.
He has the same hair piece as Dr. Inferno but in white and lime green as opposed to black and orange.
He has a similar torso to Dr. Inferno, except it is black, has no robotic arm, and has slime oozing down from the top of the suit.
Appearances
Edit
Ad blocker interference detected!
Wikia is a free-to-use site that makes money from advertising. We have a modified experience for viewers using ad blockers

Wikia is not accessible if you've made further modifications. Remove the custom ad blocker rule(s) and the page will load as expected.