8971 Aerial Defense Unit is a LEGO Agents 2.0 set that was released in 2009. The set contains seven minifigures, the Aerial Defense Unit, which is the Agents' helicopter, and the satellite broadcaster. Three pairs of Agents body armour were also included in the set.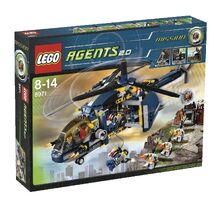 Minifigures Included
Ad blocker interference detected!
Wikia is a free-to-use site that makes money from advertising. We have a modified experience for viewers using ad blockers

Wikia is not accessible if you've made further modifications. Remove the custom ad blocker rule(s) and the page will load as expected.