70167 Invizable Gold Getaway is an Ultra Agents set to be released in 2015. It includes 23 pieces and two minifigures.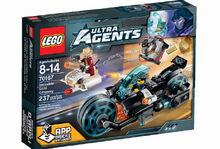 Description
Invizable holds an ADU gun and rides a white and tan airspeeder towing a gold-loaded safe with a chain. The stealth bike's wheels are similar to those of the cool convertible from 70162 Infearno Interception. Also, it can convert to hover mode, just like the cool convertible. Two stud shooters can be clipped onto it. The agent looks similar to Agent Chase from Agents and Agents 2.0 or to the player agent from the app.
Minifigures Included
Ad blocker interference detected!
Wikia is a free-to-use site that makes money from advertising. We have a modified experience for viewers using ad blockers

Wikia is not accessible if you've made further modifications. Remove the custom ad blocker rule(s) and the page will load as expected.